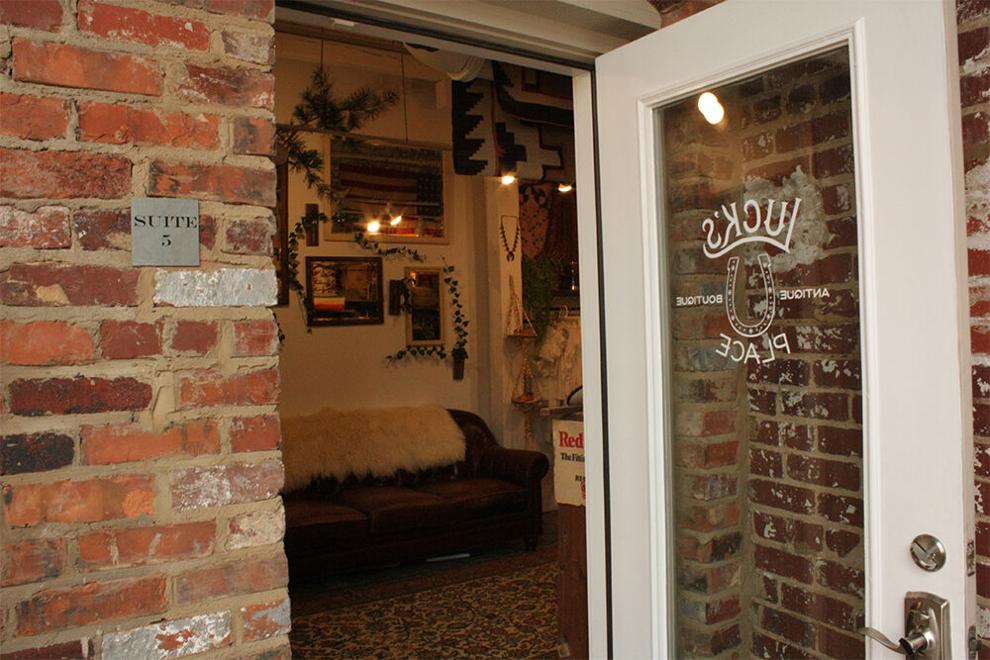 A new business venture opened its doors this weekend to its first brick and mortar, located in the historic Saddlery Building. Local businesswoman Audray Luck, celebrated the opening of her brand, Luck's Place, first home. 
Luck is a longtime collector of all things vintage, with her inventory ranging from clothing to furniture, there's endless options for people who walk through the door. 
Her own love for buying second hand pieces for her personal collection began at a young age when her mother introduced her to her own vintage collection, inspiring Luck to begin building her vintage wardrobe. 
"My junior and senior year, I started going to thrift stores, antique stores, and falling in love with the vintage scene," said Luck. 
The journey began three years ago for Luck, when she began selling vintage pieces on Instagram as White Hart Vintage Company, after seeing massive amounts of growth, her passion for bringing life back to these pieces blossomed into the grand opening of the store this weekend. 
"I've lived in tiny spaces and have had a minimal, nomadic lifestyle for over eight years," said Luck. "Having this space to display and sell all my treasures is something that I do not take for granted." 
With hopes of partnering with local crafters, Luck's place has set out with a goal to become a communal space, where customers of all ages can find a piece or two they love. Not only will the store sell her vintage pieces, but will build relationships with these crafters to offer leather goods, plants, and a variety of potential finds. 
Luck's methods of finding the gems shoppers will see throughout the store will take readers by surprise. Most resellers master the skill of estate sales, warehouse sales, or meticulously shopping other vintage sellers. 
Luck takes on the challenge of rescuing pieces left behind in abandoned homes. She emphasizes the importance of respect in this method - always having permission from the owner of the homes before entering and finding pieces. 
Due to her unique method of supplying inventory, the store will have a wide range of prices, with less expensive items in stock but also more rare, expensive pieces included. 
The art of reselling and upcycling vintage pieces is an industry that has grown to stand on its own recently, with Instagram accounts collecting thousands of followers, and apps such as Depop allowing for a safe and easy space for shoppers and sellers. 
College aged students can take advantage of the convenience of this industry, and how much growth their own business could see in such little time, such as Luck's business. Starting your own Instagram or Depop account can act as a stepping stone to what could end up as a storefront business. 
Luck's Place is currently a one woman show, with Luck playing the role of picker, mender, cleaner, storefront owner, as well as doing her advertising with photoshoots and her social media presence. 
Luck hopes to one day build a team around her to be a part of the business - but for now, is just excited to have a gallery to hang her passion for the world to see and share with her. 
Current store hours are Friday to Sunday, with Luck's hope of expanding hours as the store's team expands overtime, allowing the team to help run the store while she can focus on inventory.