The high-stakes games of Las Vegas may be thousands of miles away, but thanks to one of UTC's many Homecoming events, students are able to play like the pros at Casino Night.
Tuesday Oct. 26 was Casino Night, where students received play money to compete in games like blackjack, poker, and roulette.
Each dining table was adorned with chips and playing cards, and the dealers wore suits and vests to complete the look. It was not the multi-million dollar hotels and luxurious casinos of Las Vegas, but the Tennessee Room of the UC that was decked out.
As far as the decision to party in 'Moc Vegas,' Homecoming Late Night Event Committee Member Rebecca Angel explains it beat both a Wizard of Oz theme and a "Mocktober" theme based on Octoberfest.
"We had ideas, but that one was what we leaned the most towards," Angel said in regards to how the Las Vegas theme was picked. "The students voted on it back in March, but from the start, we thought it had the most opportunities and ideas we could play around with."
Casino night was a hit among students with many waiting outside before the event even started. Homecoming week is a break from stress and between the shuffling cards, black gloves, round tables, and high-stake calls, they appreciated winding down after midterms. 
Senior Aali Yarbrough dressed up for the occasion, her outfit accentuated by a homecoming court sash. She mentioned that she was going to all of the events and that Casino Night certainly brought some zest to Homecoming Week.
"I don't know what's going on, but it looks fun," Yarbrough said. "People came dressed up, the dealers looked official, and I think whoever organized this event did a great job."
She considered it a taste of the real Las Vegas. "I wanted to go to Nevada soon, and I think I definitely will try it now," Yarbrough said.
Amongst the spread of games, Aramark also supplied some lavish treats.
Ireland Burch is a graduate student working for an M.B.A who came to the University Center ready to swipe her Mocs card at the Chick-Fil-A — until she walked past the Tennessee Room.
"I came to get food, and next thing I know, I'm playing Craps," she said. "I've met a lot of really fun people."
Senior Andres Fields also commented on the quality of the food and the games, complimenting the friendliness of the dealers.
"The dealer was very helpful, in depth, and as we played the game he kept explaining everything that happened," Fields mentioned. "The Roulette host was more than happy, even if she repeated herself, and she even gave great advice on which numbers to bet on." 
With five different games and over twenty tables, each student had plenty of options. 
Each player approached the tables in a manner that reflected their experience. Beginners often appealed directly to the dealers, who would look at their cards and advise them with fairness. Experts — identified as the silent faces with mountains of chips — rarely spoke, except to raise the bet.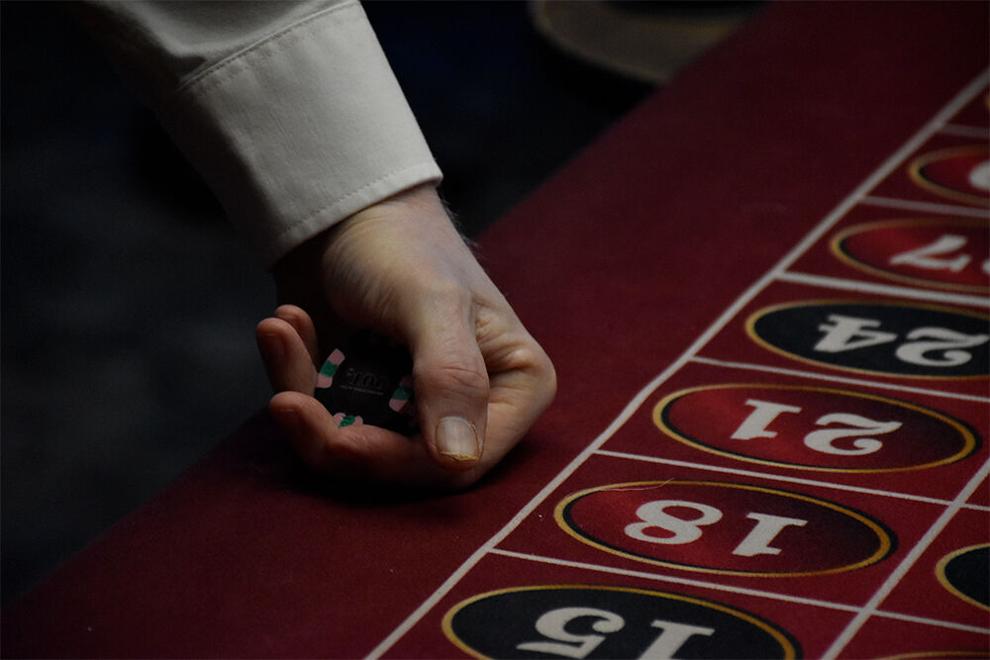 Regardless, everyone shared the same ecstatic smile after a big win. Which is a win in the Homecoming Committee's stats book, considering even the dealers wanted to have fun. 
"Working these events is always exciting for us since they're so laid back, and our main focus is to ensure that everybody here has a good time," said Kris Nero, a supervisor for Goodfellas Gaming. "We also try to pull local dealers, that way we're getting the community involved."
One guest dealer was UC Assistant Director Maurice Dorsey, who jumped in after the game company was down a hand. He dealt and taught Blackjack the entire night, having learned most of it earlier that day.
"I walked in the door, and they told me they needed help," Dorsey said. "I knew a little bit before going into it, but they explained everything I needed to know." 
Planning an extravagant event like this was definitely in the cards for Rebecca Angel, who said that she enjoyed the months of planning that went into it.
"This is probably the biggest event I've ever done, but it was the easiest I've done," Angel said. "This was my favorite event, and I really enjoyed planning it. I've put months of work into it." 
Angel invites students to attend the Vegas themed movie night hosted on Wednesday, Oct. 27 at 8 p.m. Due to the chance of rain, the showing has been moved to Derthick Hall, Rooms 101 and 201 and it is a double feature of Think Like a Man 2 and The Hangover.