Chattanooga's Nightfall Summer Concert Series returned last Friday, May 27 to kick off the 35th year of concerts. Nightfall will be held at Miller Park and Plaza each Friday this summer until September 2, rain or shine. 
Chattanooga Presents, owned by Carla Pritchard, now heads the Nightfall Concert Series. In 1988, the first Nightfall shows were held "as a pioneering effort to revitalize the downtown area," according to Pritchard.
"Even though there were just two or three small local shows held that summer, it was the same stage and the same idea that grew into the tradition of Nightfall," Pritchard said. 
Pritchard has managed the series since 1991, she said. She started Chattanooga Presents in 2010 and she has owned the Nightfall series since. 
As far as the performers who are chosen for the series, Pritchard aims to create a mix in order to broaden the choices of musicians. 
"Most times they have never played before in Chattanooga," she said. "About 15 years ago, we started adding local opening acts for all of the shows in order to showcase our growing music scene in Chattanooga." 
According to Pritchard, this year's genres will vary from blues, funk, bluegrass, New Orleans Mardi Gras Indian music, Hatian music, folk, and country music. 
On August 26, the winner of the Road to Nightfall competition will headline the show for that night. The Road to Nightfall is a "local battle of the bands in the spring to identify who will win a headline spot during the season," Pritchard said. 
After being canceled in 2020 due to the COVID-19 pandemic, Nightfall did return in 2021, but changes still had to be made after last August's COVID-19 spike. "We moved the shows to the Miller Park stage at that point to enable people to spread out a little more," Pritchard said. "This year we hope (and pray) for a good, fully normal season, with shows back on the home stage at Miller Plaza, and Miller Park filled with art vendors, lawn games and the CFC's inflatable soccer field."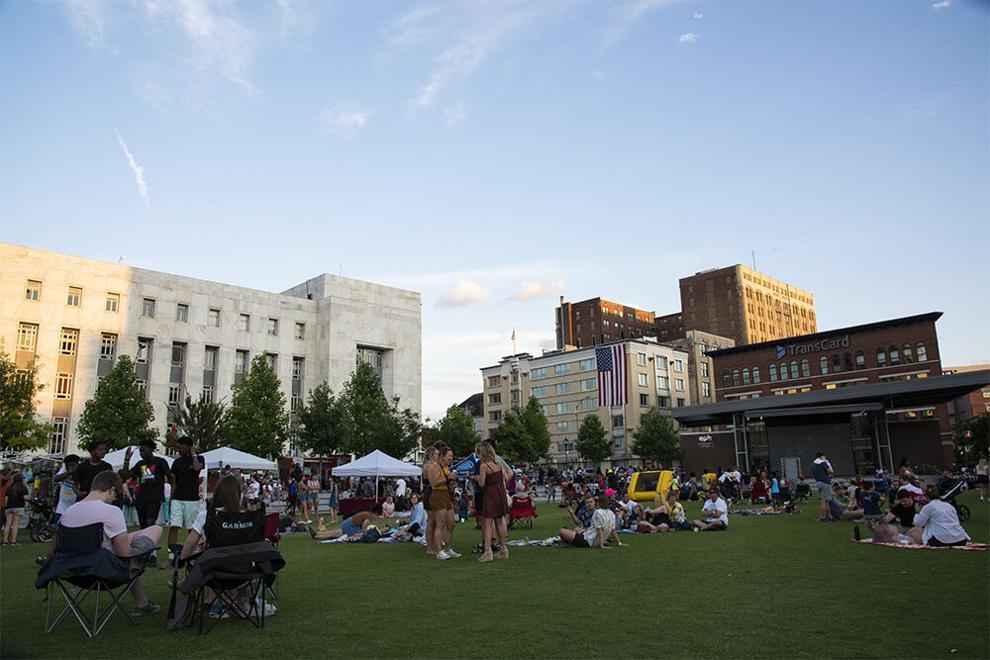 Nightfall aims to make music the centerpiece, but showcases Chattanooga's local artists, food trucks, and other vendors. The block between Market Street and Broad Street will host varying booths and vendors that will change from week to week, Pritchard said.
The 2022 Nightfall Series will even host the Atlanta Braves World Series trophy display on June 3 as it makes its tour stop in Chattanooga. 
"My very favorite thing about Nightfall is something you really can't even put your finger on though," Pritchard said. "I just call it the 'spirit' of Nightfall…where everyone just seems to feel good about being together and experiencing community." 
Nightfall will begin every Friday this summer with artist and vendor sales at 6 p.m. and food and beverage sales beginning at 6:30 p.m.