A junior at the University of Tennessee at Chattanooga (UTC) decided to initiate a protest when they saw people wanting to take action against the university's response to the attempted sexual assault incident that occurred on Aug. 29.
The student, who decided to remain anonymous, scheduled the protest for Sept. 2 at 1:30 p.m. on 11th street, where Greek life houses are located. They heard people were angry about the situation, so they made graphics enabling a protest, published them on Instagram and waited to see what the outcome would be.
Fae Corinne, who attends Covenant College, was unexpectedly called into work, but said she wished to stand with her UTC sisters in protest of wrongdoings continuing longer than they should. 
"At least the knowledge that there was going to be a protest got people interested and gave some people the courage to speak up," Corinne said.
Police officers monitored the scene ready to escort anyone off, seeing that the area is private property.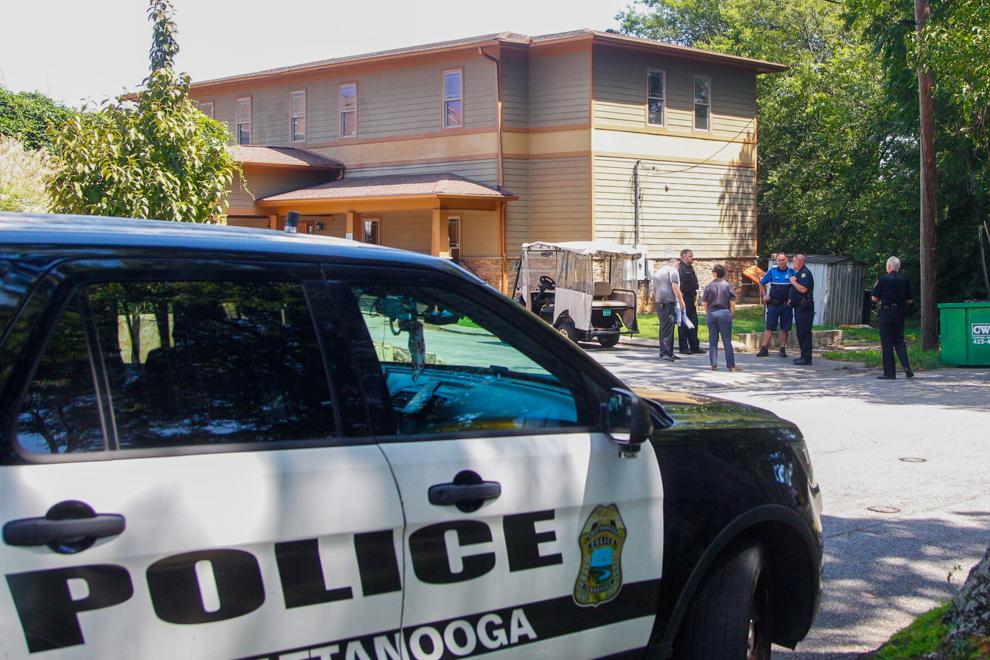 The turnout was initially uncertain but ended with nobody in attendance. In response to the outcome, the organizer said that they wanted to do what seemed right.
"I was really hoping people would show up," the source said. "I hope regardless of all of this justice will be served and things can actually change."
The source believed the incident happened during the Phi Kappa Alpha (PIKE) party held on Saturday, Aug. 28. 
Additionally, a Clery alert email sent to students by Interim Vice Chancellor of Communications and Marketing Gina Stafford said "UTC Police are assisting the Chattanooga Police Department in investigating a reported attempted sexual assault that occurred at approximately 2 a.m. on Sunday, Aug. 29 at a social gathering at 1117 E. 11th St." Information for resources and safety tips were added as well. 
The Clery Act requires the university to "communicate campus safety information and has requirements for handling incidents of sexual violence and emergency situations," according to UTC's website on the Clery Act.
The Clery Act Daily Crime and Fire Log, which shows any crimes reported to the University of Tennessee at Chattanooga Police Department (UTCPD), simply states the university police assisted another agency the night it occurred and shows an open disposition "pending future developments."
The PIKE fraternity was contacted, but the Assistant Director for Fraternity & Sorority Life Elena Grace Anderson said in an email that "given the sensitive nature of the case, all questions can be directed to UTC's Office of Communication and Marketing."
Stephanie Rowland, UTC's Title IX coordinator, said that under Title IX information cannot be shared with the public as part of federal law.
"We can't provide information to family members; we can't provide information to the public other than a Clery alert," Rowland said. "We can't provide more detailed information because it would be a privacy violation against the victim."
The protest was solely set up by the student in an effort to protest PIKE and "frat-culture" in order for them to receive proper consequences, and hope that "the university might take meaningful action." They were concerned that PIKE and the university did not make an official statement condemning this kind of behavior. 
This left students wondering what actions are taken against an organization that breaks UTC's Code of Conduct and Title IX. 
"I wish they could be held more accountable because it's frustrating to see this stuff happen, happen, and happen and all they get is a slap on the wrist," they said. "I'm trying to do this one thing, in hopes of inspiring the university to do the things that actually matter."
Brent Fuchs — the director of student conduct, whose office is responsible for administering, investigating, and enforcing the Student Code of Conduct — said he could not speak to the specifics of the matter in question but did acknowledge that students and student organizations can face disciplinary action by the university, including fraternities and sororities. 
He referred to section three of the Student Code of Conduct [Section 3.(1), 3.(2), and for student organizations, 3.(3)] and how it applies to a student on university controlled property. His office can also discipline a student off UTC's property when it affects the well-being of another student.
Repercussions range from a disciplinary reprimand through permanent dismissal for a student [Section 11.(3)] or the revocation of university registration for a student organization [Section 11.(4)], according to Fuches. 
When the university is notified of an alleged violation of school policy or any law, it begins an investigation. How the investigation is conducted depends on whether the alleged violation falls under the Student Code of Conduct, Honor Code, or  under Title IX's policy on Sexual Harassment, Sexual Assault, Dating and Domestic Violence, and Stalking. 
Furthermore, the new Title IX regulation, updated in August 2020, requires a formal complaint before the university begins investigation. They begin immediately upon receipt of a report of any alleged violations, unless there are circumstances that would prevent them from doing so or would interfere with a criminal or police investigation, according to Fuchs. 
In the case of a Student Code of Conduct investigation, Fuchs said the student conduct investigator looks into the entity of an alleged violation and issues impartial findings on the matter from start to finish, much like a criminal investigator. 
Throughout the process, the community is rarely aware because matters involving individual students are protected under the Family Educational Rights and Privacy Act (FERPA). 
A student may report through mandatory reporters — such as faculty or staff —  through the Office of Student Conduct, or the Title IX office. Rowland also encourages victims to report to the police in order to ensure they have all the possible remedies they can. 
After the report, the student is provided with a list of support resources. Survivor advocacy services are also provided by the center of Women and Gender Equity Center, as well as consent workshops and healthy relationship workshops held by the university.  
Although there are plenty of resources, students are able to decide what suits their needs. Supportive measures such as class excuses, delayed exams, missed homework with no penalties, emergency housing and safety escorts are provided. 
"I encourage students to report if they've been impacted by sexual assault, sexual misconduct, dating violence, or stalking," Rowland said. "There are a lot of resources that the university can bring to bear in order to help a student to ensure that their academic success is not impacted and to ensure their emotional well-being is taken care of as well."
Little information can be given to the public about Title IX violations, which may encourage complainants to report any incidents. This, however, should not stop students from speaking out about better remedies the university can act on.