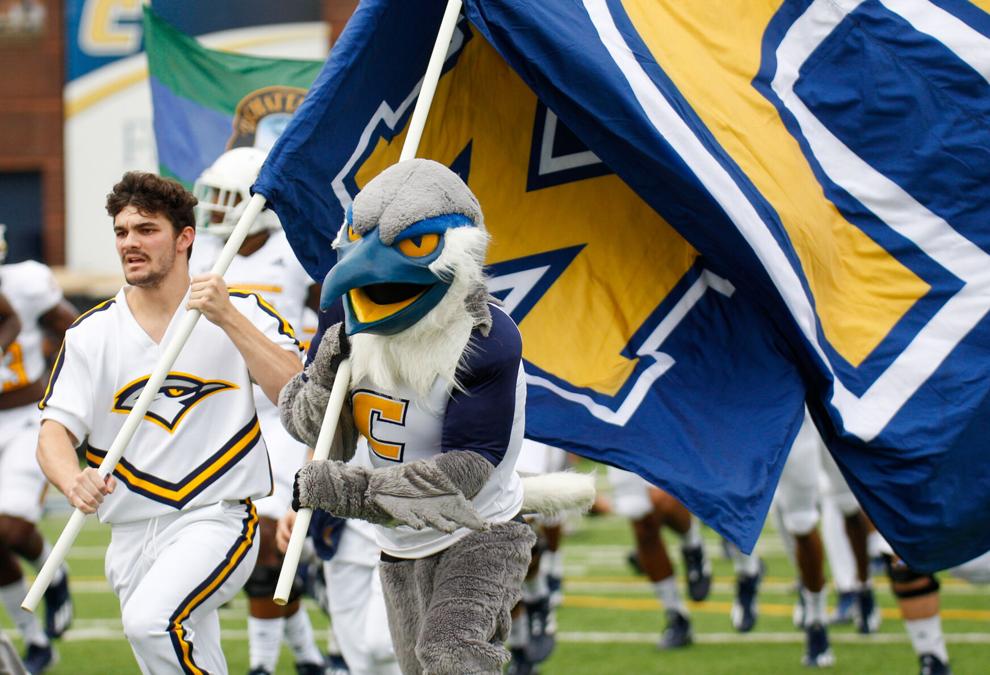 Scrappy's presence on and off campus is a staple of how UTC shows its school spirit, but he did not always ruffle his feathers at the competition.
This UTC mascot celebrated his 25 birthday just this year.
While for many students, Scrappy is all they have ever known, some faculty still remember the old mascot, Chief Mocconooga. From the late 1970s to 1996, the mascot was a characterized Cherokee tribesman, much like the Cleveland Indians.
Some faculty, like Spirit Coordinator Ashli Skiles — who also serves as the Cheer Mocs Dance coach, and describes herself as Scrappy's handler — remember Chief Mocconooga fondly, but in the same breath admits change was necessary.
"I miss Chief Mocconooga, because that's what I started out with, and change is always kind of hard," Skiles said, but she believes in the change to Scrappy. "In the long run, yes, the change was necessary for the right reasons, trying to keep the campus and community happy."
The community at the time agreed that the mascot, while intended to reflect the local heritage, inappropriately and offensively represented Native Americans.
As reported by major press outlets at the time, Tom Kunesh — Chattanooga InterTribal Association spokesman — released a statement about the change in 1996 that said UTC made a good and proper decision. 
He added that "the university is in touch with the issues of race and diversity. This will show Chattanooga in a very positive light."
Kunesh's words aged well, as the UTC mascot went on to appear before the entire country on NBC's Late Night with Jimmy Fallon. In 2009, Fallon described Scrappy as "a sledgehammer wielding mockingbird with a heart of blue and gold," but cultivating that positive, inspiring mascot image for UTC took years of effort and development. 
Coach Skiles details every step of that long journey. She attended and graduated UTC as a student from 1994 to 1999, which means she had personal insight to share about Chief Mocconooga, what he was intended to stand for, and the switch to Scrappy.
"He [was intended to] represent the Chattanooga area and Moccasin Bend," she said. "With theme of being a Moccasin, first the mascot was the Moccasin Snake [in the 1920s] and later the Moccasin Shoe [in the 1980s]."
Coach Skiles added that the shortening of the UTC Moccasins to the UTC Mocs came during the time of Chief Mocconooga, and while she admitted these changes were a long time ago, she was directly involved in them.
"I was actually on the process of that board that helped decide what type of mascot they were going to use from changing from Chief Mocconooga," Skiles said. "They brought in several companies before the committee met and narrowed it down to three."
"There were several different ideas, I remember one being a bear, but of course the Mockingbird is what stuck," she said.
Scrappy's development finally led to his name selection, and with it, the committee hoped to memorialize a certain coach that inspired the entire campus; in other words, who they believed embodied the spirit of a Moc.
"He didn't really have a name, until we decided to name him after Coach Scrappy Moore," Skiles said. "Coach Moore just really reached out in a positive way and was so iconic on campus for being compassionate for his athletes."
 "To me, Scrappy is everything," Skiles said. "He's the face not only of our program, but athletics, campus, and the community. He's an icon everywhere on campus, definitely representing a lot of Chattanooga."
From the snake, the shoe, and the Cherokee chief, UTC struggled for decades to find a mascot that worked, until Scrappy flew into their hearts. Scrappy is the mascot students, athletes, and faculty alike can rally around, and — thanks to the mascot committee's changes — he serves as a source of pride for the whole Chattanooga community.