By Madison Van Horn, Staff Writer—
Two local artists are in the process of painting a community-inspired mural at the heart of Chattanooga's Southside district. 
Briah Gober, a senior Marketing major at The University of Tennessee at Chattanooga, and Alecia Vera, a Chattanooga artist whose work is featured in many local businesses, teamed up to create a large-scale mural that encompasses Chattanooga's diversity. The mural is expected to be completed by the end of March and is located on the side of Kinley Chattanooga, a new hotel in Southside designed by Vision Hospitality Group. 
"We really wanted this project to speak community, diversity and belonging," Gober and Vera said, speaking together. "There are motifs scattered about that include traces of the city, connections between people, and a vibrant landscape that inspires all who encounter it."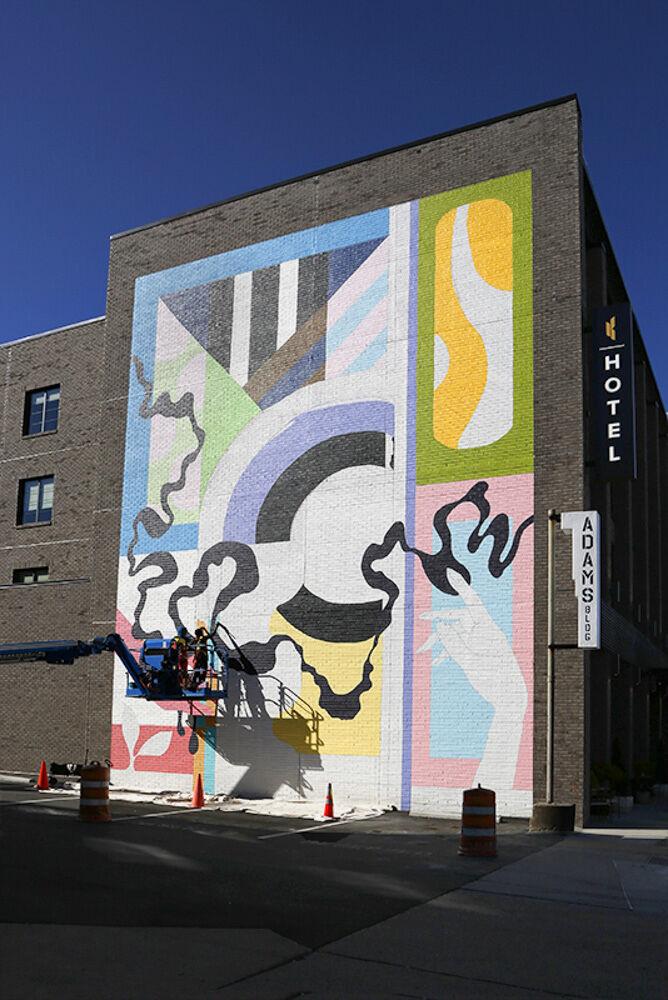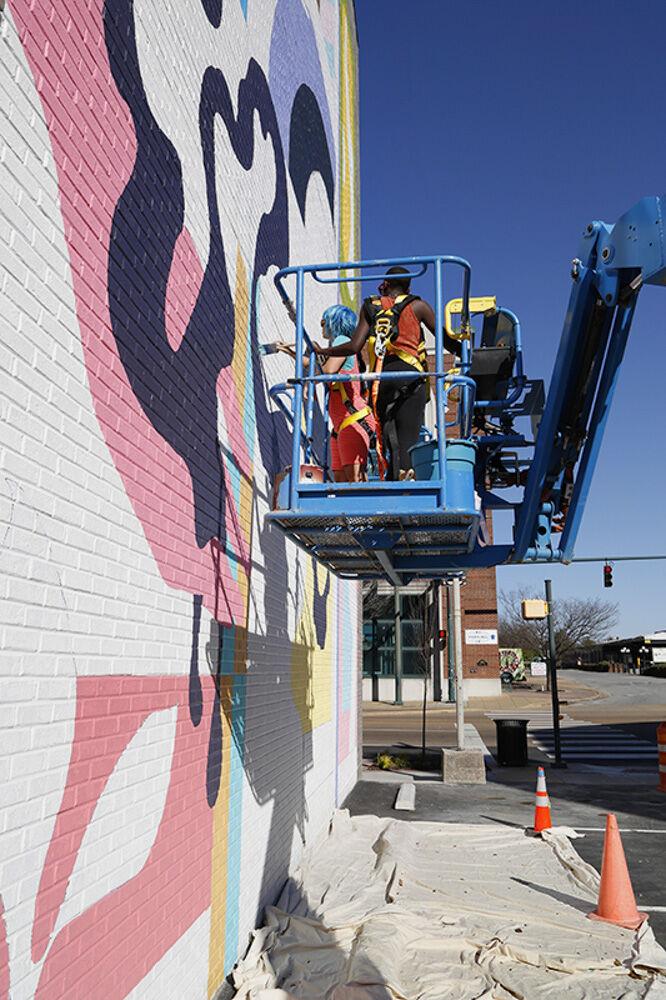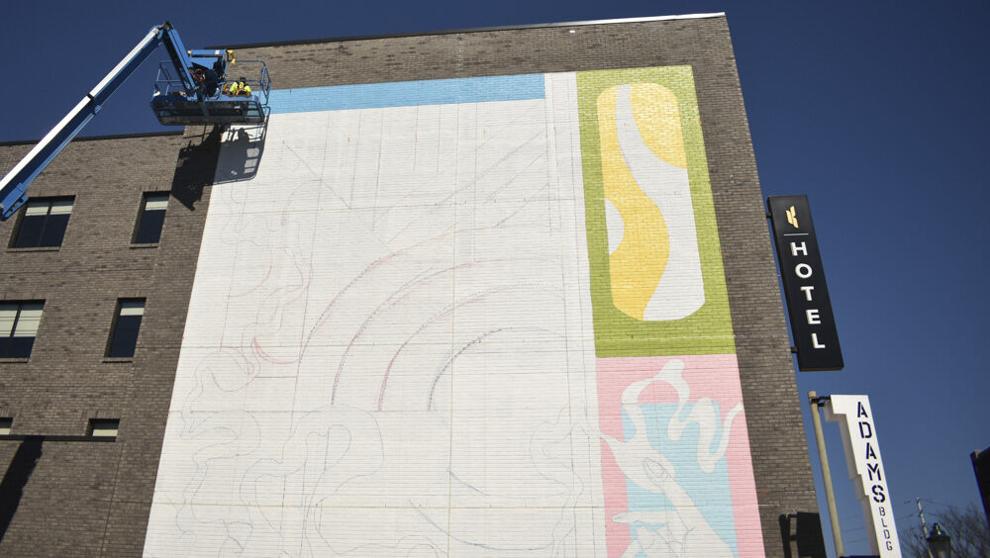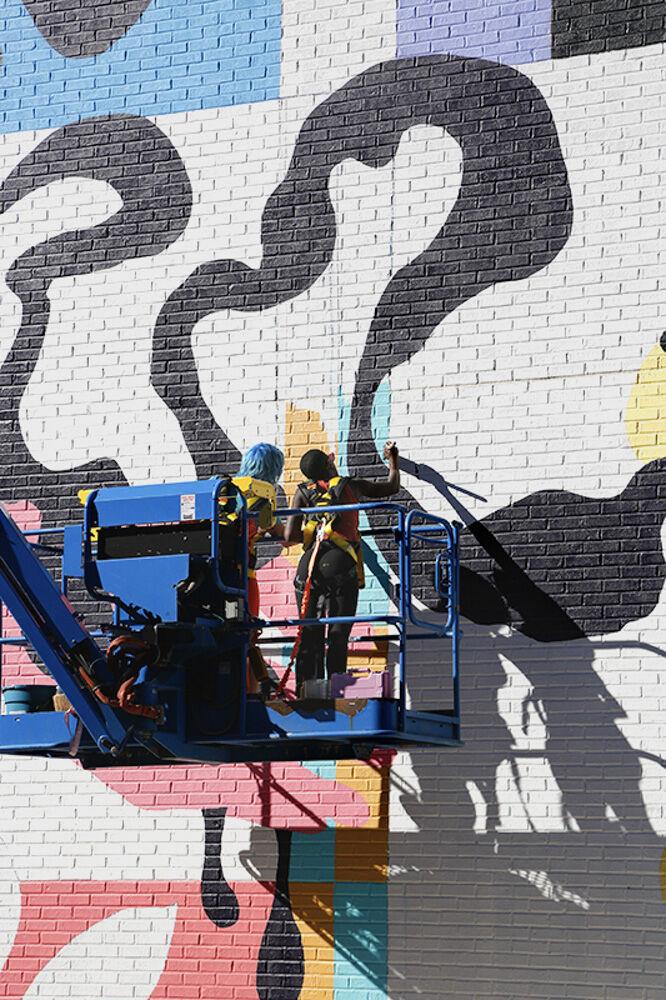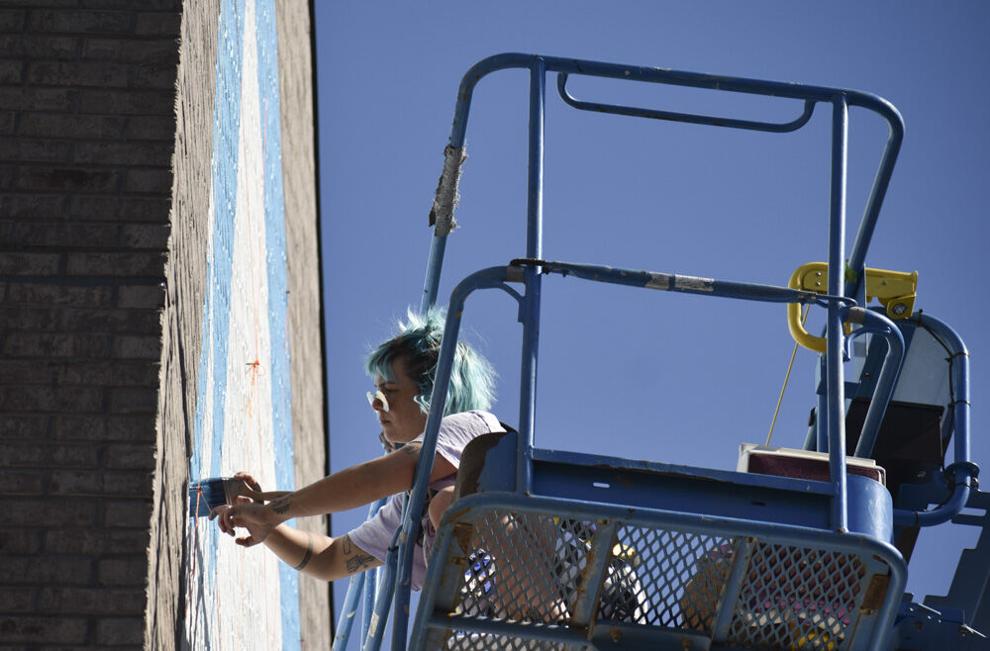 As Chattanooga locals themselves, Gober and Vera were sought out by Ashley Ewing Parrot, the curator for Kinley, to collaborate and create their definition of Chattanooga's community through art. The project is partially funded by the Artist Work Grant Program created by Arts Build. Gober and Vera are excited for this project and the potential it has to be an influential part of Chattanooga. 
"We wanted it to set the tone for where we are going as artists and set the tone for Chattanooga as a whole," Vera said. "We knew we had to do something really mind-blowing."
Both artists are extremely grateful to have been selected for this opportunity. 
"This is something I knew I could do," Vera said. "I'm confident in my skills to make this happen. Finding someone to give people like us that kind of opportunity is extremely rare with zero background."
Gober, who is on track to graduate from UTC in May, said she was pleasantly surprised that she was selected for such a big project and that she has learned so much from this opportunity.
"I have never done a mural or anything this size," Gober said. "I'm still baffled at the fact that they even thought of me to do this. I've learned so much throughout this entire opportunity. Learning how to drive a lift, conquering my fears of being 50 feet in the air, stuff that I never thought I would do. Things I didn't even believe I could do, I'm now conquering. The sky is the limit and this is just another medium I'm open to now. I have loose plans with art in general and I'm inspired by so much. I want to do everything. I see myself doing more murals and traveling. I've always been hard on myself, but if you put your mind to it, you can do it."
Taking on such a big project can be challenging, but Gober said that she and Vera were inspired by many different elements.
"I am an abstract artist, so for us creating a story was probably the hardest part," Gober said. "They wanted community, wholeness, and togetherness in a story about Chattanooga. We wanted to be inspired by motifs and artifacts in our hometown."
Vera said that she and Gober brainstormed the most important elements of the city of Chattanooga and how they could incorporate them into a piece about community.
"We started jotting down things in this city that really interested us and others," Vera said. "The Walnut Street Bridge is a dominant part of our city and the blue color is what you see every time you think of Chattanooga. So that color being on the mural was really important. Then there's the abstracted line which plays off the Chattanooga Choo Choo. They are revamping Southside, but we wanted to pull in elements from things that have been here for years in order to help the integrity and authenticity of Chattanooga altogether." 
The mural features over 20 colors, including the signature blue color of the Walnut Street Bridge and an abstract line flowing throughout, which resembles the Tennessee river gorge and is meant to represent the heartbeat of the city. Gober's abstract drip painting techniques will also be featured in the form of parachute cloth that will be adhered to the mural. 
"I refer to my process as recycling the paint as I drip paint off of one surface onto another to create more pieces," Gober said. "What I love the most is for people to allow themselves to be a part of it and to interpret the painting for themselves."
There will be a QR code on the mural itself so that people can read all about the underlying meanings. However, both artists agree that the mural is completely up to interpretation.
"In my art, I don't label a lot of things," Gober said. "It's like if you hear a song and your whole life you think it says these specific lyrics. Then you look up the lyrics and it changes the whole song for you. I just want people to be able to interpret things for themselves. Without any context, I feel like people can relate and find joy in creating their own narrative.'
As artists, both Gober and Vera value sustainability and they are maintaining those values, even while painting a large-scale mural.
"We are using eco-friendly paint," Vera said. "Both of our work comes from sustainability and recycling. We have only used, on this entire mural, two paintbrushes and one paint tray."
Gober and Vera said they are proud to represent their community in such a powerful manner and they hope that their piece will inspire others.
"I really wanted this to be an inspirational piece and I hope that that's what this will represent for everyone," Vera said. "This is just as much their mural as it is ours."
To learn more about the mural and other projects, see @aleciavera and @lovelyintoxication_ on Instagram.