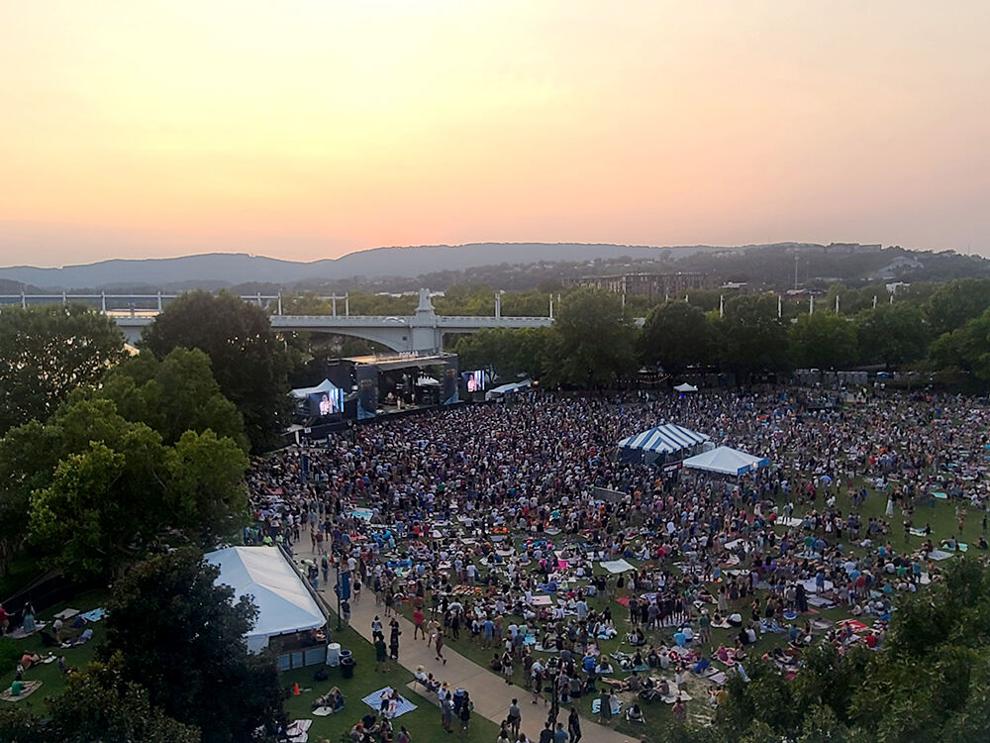 Moon River came to town this weekend for the first time since 2019. The festival brings together the community, but along with it comes new faces and new business ventures. 
Located in Coolidge Park, the festival is nestled into the hotspot for North Shore businesses, with boutiques and restaurants just steps away. With mobility allowed in and out of the festival all day, festival goers shop and explore the area throughout the weekend.
Longtime business, Collective Clothing, has been located in North Shore for seven years. Their appearance this weekend was not their first festival, but one of the first since the pandemic began. 
"We get a lot of traffic from people that attend the festivals and sometimes even get the artists or organizers in shopping with us as well," said Sondra Aten, owner of Collective Clothing. 
Although the vintage store stays busy throughout the weeks, festival weekend is no doubt a time to capitalize on the influx of tourists within the area. With the store being a favorite for many college students, it's equally as popular among first time visitors in the city. 
"In past years we were under prepared but this year we plan to double staff on the weekend to make sure we have extra help to assist shoppers," said Aten.
For students who are new to campus and the city, festival weekends in Chattanooga are a brand-new experience. Often looking to venture outside of campus, without buying a pass, students can enjoy businesses holding sales, live music, and welcoming in customers with open doors. 
Festival weekend also gives students an opportunity to find the cool pieces they might be hunting for. Aten said that due to festival goers flooding the city, specific pieces are held back and put out only during the event weekend to cater the attendee's taste. 
The festival vendor list boasts new eateries and breweries from all over. From Efe's Greek Kitchen out of Gulf Shores to The Coconut Bowl that travels to different festivals bringing attendees good coffee and acai bowls, there was a variety of choices at the festival this weekend. 
Combined with the out of town food trucks, there were booths that stuck to Chattanooga's hometown roots. 
No Baked Cookie Dough, located on Frazier Avenue, offered a multitude of sweet treats for festival goers all weekend. Not only did they sell their partial menu at the booth, but their storefront location saw an increase in business with attendees stopping in. 
"Since we didn't sell our full menu down at the festival, lots of customers went up to visit our storefront to try the other flavors," said Tyler Rogers, manager of the location. "As a small business, we love contributing to community events and being a part of something like Moon River." 
Community events, such as Moon River weekend, continue to open doors not only for students looking to get involved in the city, but also for the neighborhood businesses to expand their crowd of buyers.