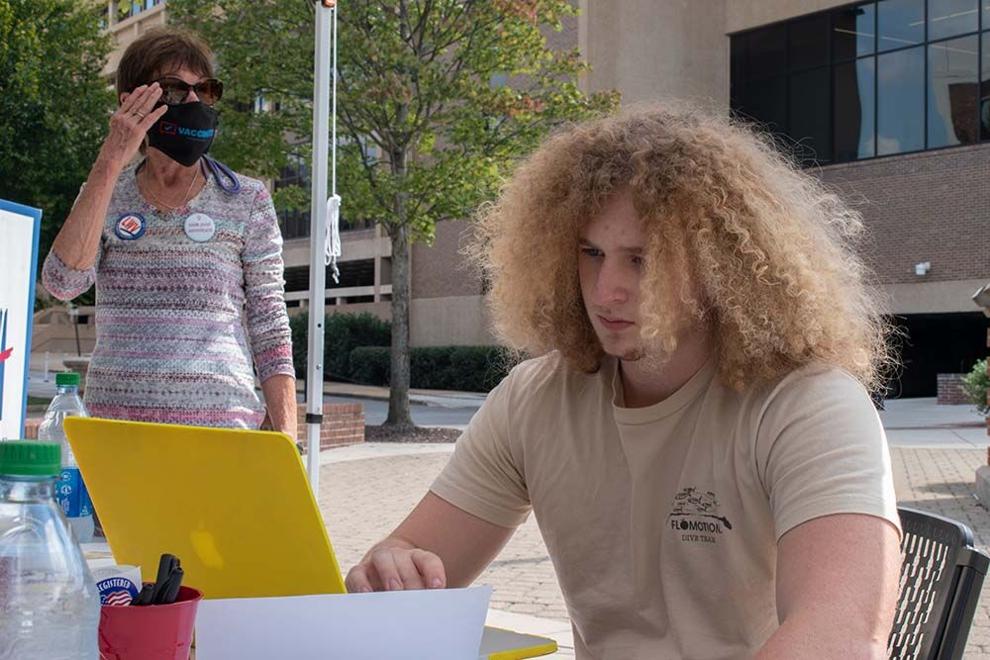 Outside the UTC Library, Becky Bumgardner and Brandon Neal, with the Hamilton County Election Commission, were set up to register students on National Voter Registration Day. 
They offered more opportunities beyond simply registering to vote for students to get involved in the process. Bumgardner suggested getting involved with the local parties, which each have a local presence here in Hamilton county.  
Volunteering at the polls also gives people an opportunity to help execute the process of voting firsthand, said Neal. Neal also noted the importance of paying attention to and participating in the primary elections. 
"Primaries are very, very important," said Neal. "A common complaint is 'I feel like I'm voting for the lesser of two evils' and that's because they're not paying attention to the primaries where it's wide open and you can vote your party." 
After registering, showing up to the polls is the most important. Along with that, Bumgardner said that voters should research and be aware of their deadlines so that they can ensure they are able to participate in elections.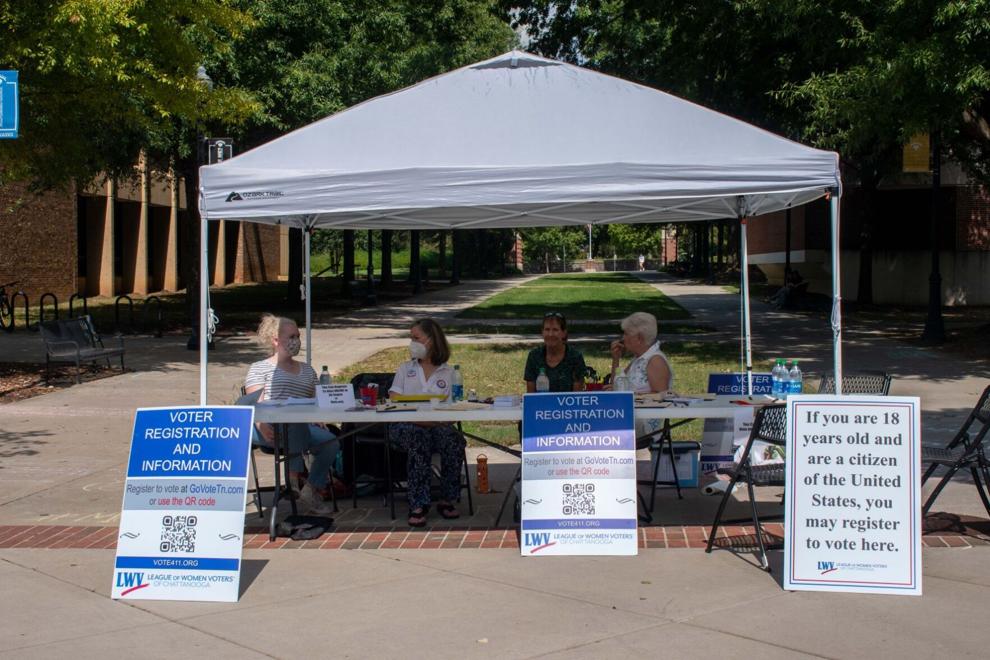 Outside the University Center, the League of Women Voters of Chattanooga also set up to register voters.
Sharon Alexander, co-president of the LWV of Chattanooga, encouraged online registration, though paper registration can still be sent to the voter's corresponding Tennessee county by the Hamilton County Election Commission, she said.
For out-of-state students, online registration is ideal, and is offered by 39 states. 
Many college students may find themselves confused on the logistics of voter registration, and asking questions might be intimidating, too. 
Alexander suggested using an app called "GoVoteTN" which is a useful resource with information ranging from polling sites to elected officials for each district. 
The Women, Gender and Sexuality Studies program at UTC is involved with the LWV of Chattanooga. Meredith Maxwell interned with the LWV last semester and is now the Communications assistant with the Women, Gender and Sexuality studies program at UTC. 
Maxwell also organized student volunteers to help get students registered on National Voter Registration Day. 
"Voting is important because it does affect our lives," Maxwell said. "I think COVID is a perfect example that depending on the leadership that is involved, it is going to affect our daily lives." 
Additionally, in partnership with the Tennessee Secretary of State, UTC's SGA threw a tailgate event at Finley stadium on Saturday, Oct. 2. 
Volunteers helped with registering voters on paper and online. 
 "These Voter Registration Tailgates are the perfect opportunity for us to show students and fans how easy it is to vote in Tennessee so that they can get in the game and make their voice heard on Election Day," Secretary of State, Tre Hargett said in a press release. 
The event also encouraged voters to use the GoVoteTN.gov website to make the process seamless and to keep up with all things election related.
For more voter registration information, visit UTC's SGA Instagram @utcsga, as well as Tennessee's Secretary of State social media accounts on Twitter: @SecTreHargett, Facebook: Tennessee Secretary of State, and Instagram: @tnsecofstate.