Police motorcades typically escort a nation's most important, valued people.
Fans of the Pride of the Southland Band would agree, particularly after the band cruised into Chattanooga with protection from Blount and Hamilton County police.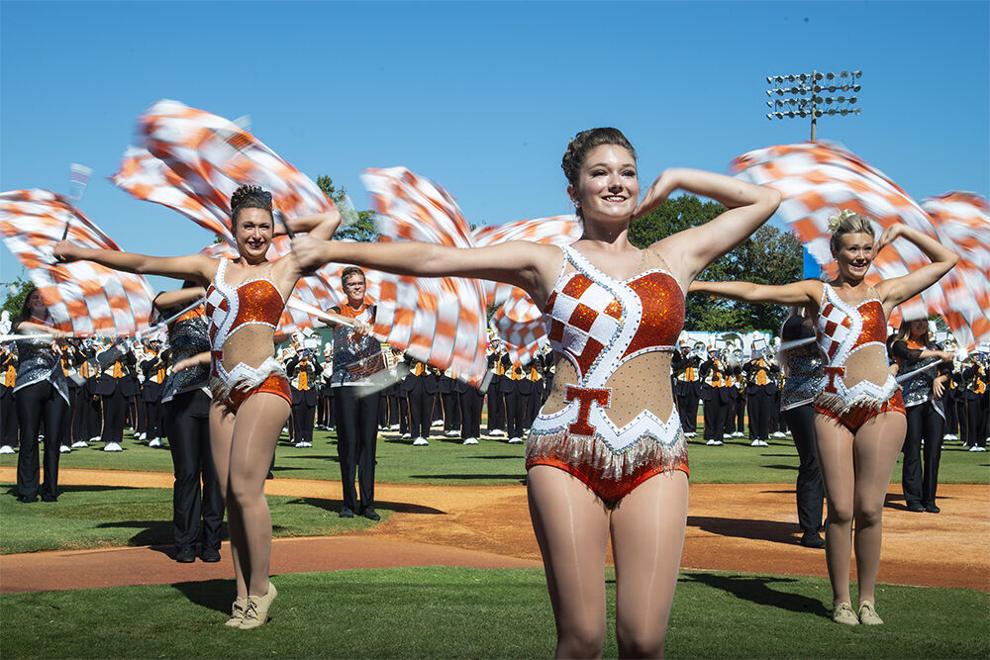 The University of Tennessee at Knoxville's Pride of the Southland Band performed in Chattanooga on Thursday, Oct.6. The group briefly stopped by the AT&T Field on their way to Louisiana State University. 
The Pride of the Southland Band is an award-winning, nationally acclaimed marching band which typically performs at Neyland stadium during the fall football season. The student musicians treated the local community and parents of Pride members to a free concert show. While the band did not march, every section—including percussion, color guard and majorettes—attended.
Local news anchor and Pride announcer Greg Glover introduced the segments and songs, which included "Sweet Caroline" and "Industry Baby." When he asked how many Pride parents were in the audience, hands flew up from every corner of the crowd.
One raised hand belonged to Michelle Goldston. Mother to Clarinet Section Leader Lauren Goldston, Michelle typically attends UTK's games in Knoxville, but she could not make it to Baton Rouge. Thankful the stop in Chattanooga gave her another opportunity to watch Lauren Goldston perform, she didn't hesitate to join in on the audience activities.
"You hear [Rocky Top,] and you just have to start clapping," Michell Goldston said, leaning over to speak; her words tried to dodge the rhythmic applause filling the stadium.
Nathan and Stephanie Smith traveled from Dunlap, Tennessee to watch their freshman daughter, Hadley Smith, play the piccolo. Nathan graduated from UTK in 1999.
"It's such a great tradition, I grew up going to the games," Nathan Smith said. "To know we have a daughter in it, we are very proud of her…"
The audience showed a spectacular level of support. Flanking the gate, stadium attendants passed out "VOLS" stickers to everyone. Most spectators decided to wear the stickers, even though a vast majority of the audience did not need them; they brought their volunteer spirit through their shirts, hats, pom-poms and sunglasses.
Open to the public, some attendees visited solely to hear Pride play. David Faw traveled from Northeast Georgia to listen to the concert. He reminisced about his high school days, reliving them as he watched the show.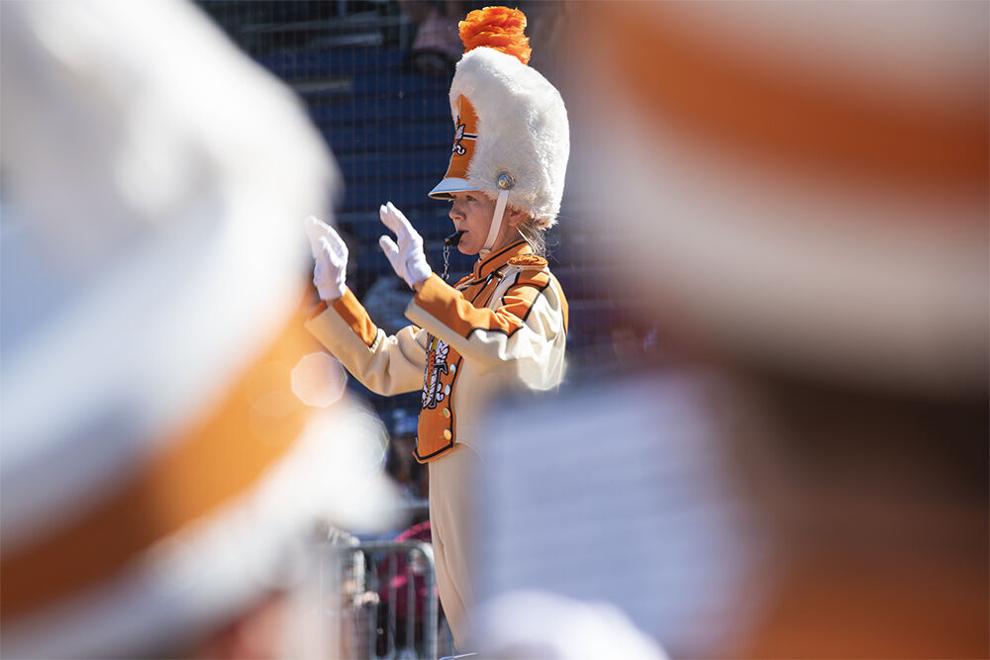 "Seeing them brings me back to when we got to see them back in 1985," said Faw, whose eyes never left watching the field as he spoke. "I would have liked to see them march, but anytime you see the Pride, there ain't nothing better."
Freshman bass drummer Zac Swafford noticed some audience interaction, but the band usually performs for a larger, louder crowd.
"It definitely isn't Neyland [Stadium,] but it was comforting seeing the support and interaction from family and friends since I'm from the area," Swafford said.
When Swafford is not studying for his music education major, he practices for the band. He thought there were minimal differences between drumming on a baseball field compared to a football field– apart from trying to keep his spats clean from the dirt.
"Spats are the white things on top of our shoes," Swafford explained. "I was just really focused on not staining them."
Thankfully, LSU's Tiger stadium does not have a dirt infield.
"I am ecstatic to play at LSU," Swafford smiled. "Their stadium rivals ours in the amount of noise produced."
After another, albeit closing, performance of Rocky Top, the show ended at 12:45 p.m. The band bunched together as it exited the field, dissolving from separate sections into a sea of orange bibbers and white plumes.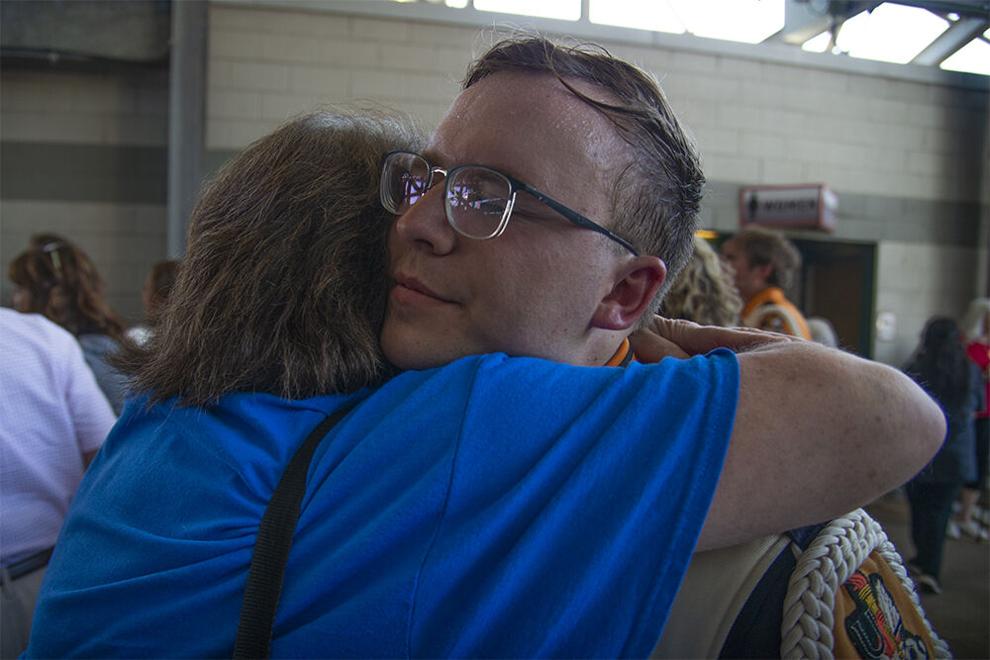 Undeterred by the disorganization, Linda Hooper, grandmother to Pride member Thomas Hooper, waited several minutes for her grandson to reach the exit. She stopped him just in time for a hug and a picture with the family.
According to the Director of the Alumni Office, John Young, the concert continued a more than thirty-year-old tradition: Chattanooga hosting the Pride of the Southland Band before it travels for an away-game.
"The show is a good way to engage our alumni, fans and local community," Young said. "The Pride of the Southland Band has a great following, and we're happy to bring a free concert."
Young explained that because of the COVID-19 pandemic, the last time Pride played at the Lookouts' stadium was 2019.
Pride's last performance in Chattanooga was also the first year AT&T stadium hosted the band, according to the Lookouts' Media Relations Manager Daniel Kopf.
UTK alumni and Hamilton County Mayor Weston Wamp welcomed Pride during the concert, giving them a "go big orange."
Previous Pride free concerts were held at Miller Park.